So, what caused this apparent storm in a teapot?
One can argue that the major culprit was the Bond Market. After years of near zero interest rate levels, the beginning of 2021 brought us one of the steepest and most abrupt increases in bond yields since 2009. Despite Central Banks' efforts and insistency on the need for low interest rates for longer periods of time (to ease debt burden and facilitate lending), the fact is that bond traders had a different idea and sent a message that clearly states that interest rates needed to be adjusted to a higher range. Due to the fact that Bond Yields and Bond Prices move inversely, this prompted a fast sell-off in the bond market and many bond assets had one of the worst quarters ever recorded.
With all that is uncertain in the financial markets, what we do know is that the Federal Reserve of the United States is still committed to maintaining an accommodative stance (with low interest rates) way into 2023, to keep providing support to the economy. Nonetheless, the recent US Dollar appreciation may be implying that many believe the FED will be forced to act earlier than that. The main reason is that, if the world rebounds as strongly as predicted (the most recent IMF projections are forecasting a 6.4% GDP growth in 2021 for the US), there may be a strong risk that the economy will "overheat", and inflation rise uncontrollably.
All this uncertainty posed risks to the equity markets, with many growth stocks having a volatile quarter. These tend to do better on a low interest rate environment, as credit is cheap, but ultimately, because these companies are expected to have higher earnings only in the future, the current valuation at today's terms become less attractive and, consequently, demand falters.
This being said, the 1st Quarter saw Financial, Energy and Utilities companies as some of the best performing assets, two sectors that had fallen out of love for many investors worldwide for a long time. It's still uncertain how long this rotation from growth to value will last, but investors that held on to companies like Goldman Sachs or Exxon Mobil (amongst others) were finally rewarded after years of being under the shadow of the Technology sector's buoyant run.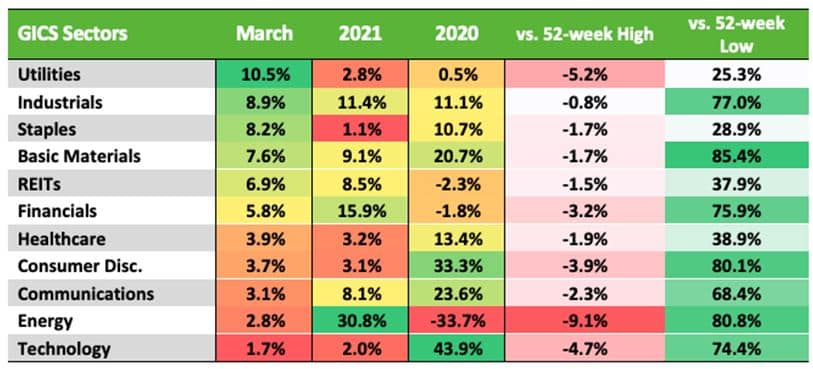 Source: Nasdaq.com
Apart from this, here is a quick summary of other "hot topics" that were largely debated in Q1:
US President Biden saw approved an historical $1.9T (as for Trillions) fiscal stimulus package and quickly followed with a promise of an additional $2T infrastructure spending plan.
Following the rotation from Growth to Value, the UK index held relatively well and maintained the uptrend that started in November 2020. Manufacturing and Services figures are pointing to a strong recovery post-covid, which can be accentuated as the UK's rate of vaccination outpaces the rest of Europe.
European markets had a very strong Q1, being led by Germany and Volkswagen, as the car maker announced a very ambitious projection for electric cars sales. The main drawback currently is the poor vaccination rate and consequent risk of higher covid infections leading to more lockdowns. More precisely, there are fears that the Tourism sector will not be able to achieve the projected targets for the upcoming Summer, which can have a stronger impact on countries like Portugal, Spain or Italy.
In Asia, China is using their better economic position to deleverage some components that have become over-extended with time. Specifically, banks are improving capital ratios, debt levels are being reduced and monetary stimulus being unwind, which indicates a careful planning for the future whilst the majority of the developed nations are still in the process of providing stimulus to their economies. This has taken a short-term toll on Chinese equities but will possibly leave them better equipped to tackle the post-covid challenges.
Overall, this is how the major stock markets performed in Q1 of 2021: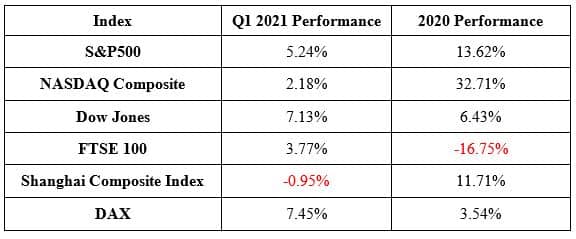 Source: Investing.com
Written by:
João André (International Financial Advisor) 
joao.andre@blacktowerfm.com
Manuela Robinson (Country Manager – Portugal)
manuela.robinson@blacktowerfm.com
Sally Tilly (International Financial Advisor) 
sally.tilly@blacktowerfm.com
Disclaimer:Copyright © 2021 Blacktower Financial Management (International) Ltd, All rights reserved.
The above information was correct at the time of preparation and does not constitute investment advice and you should seek advice from a professional adviser before embarking on any financial planning activity.