Hard-working retirees have put in decades of time and effort as part of their working life. As they prepare to relax in retirement, they're counting on a pension to help maintain a comfortable life – but the quality of state pensions available varies drastically based on where you live. We ranked countries across the globe on key pension factors to find out the best country in the world.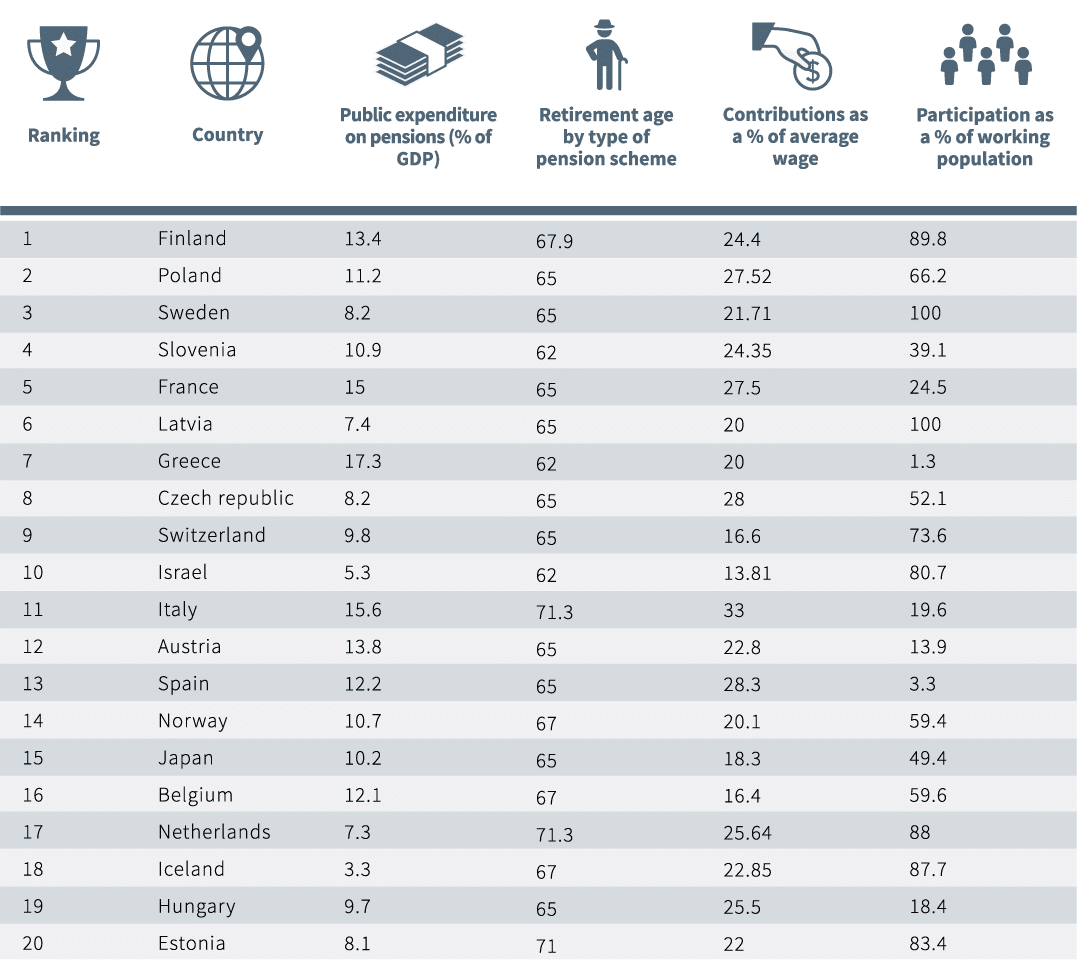 Finland is the best country for pensions
The beautiful Nordic state of Finland is the best spot for pensions. With a famously happy population, retirees in Finland can enjoy stunning landscapes and picturesque cities, but also the best global state pension. With high public expenditure on pensions, and a strong percentage of the population paying into a pension, Finnish nationals can really make the most of their retirement.
Best countries for pensions
Following Finland, the best countries for pensions are Poland and Sweden. Both boast an average retirement age of 65, below the average of 66, and Sweden has an impressive 100% rate of participation in funded pensions. Poland also has one of the highest contribution rates, with 27.5% of the average wage going toward pensions.
Average retirement age
Across the countries in our top 30, the average age that people retired at is 66 years, with the lowest average age of 62 going to Slovenia, Greece, Israel and Turkey. In contrast, Denmark had the highest, with the average pensioner not retiring until the age of 74 – perhaps thanks to Denmark's strong healthcare system.
Highest pension contributions
Some countries have significantly higher contribution rates, such as Italy, where 33% of the average wage is earmarked as a pension contribution. Other countries where people are putting more into their pensions include Spain, at 28.3%, and the Czech Republic at 28%.
Sources
Methodology:
To calculate the index, we first normalised the data categories individually from 0 to 1 and then summed the results.
Index sources:
All of the indexed data can be found on the OECD database as part of the Pensions Report.
Please note the index only displays counties with retrievable data for all metrics considered.
Talk to us today
To understand more about how our The World's Best Countries for Pensions in 2021 Service will benefit you, Contact Us Today
"*" indicates required fields